Bootcamp starts now.
I woke this morning with a new sense of FUCK YES.
If you've been reading my blog at all, you know I had surgery three weeks ago. Actually, this Wednesday will be one month. Do I feel better yet? Well, sort of, but I'm very much still healing. I was doing alright and then a few days ago I sneezed and no joke, ripped or tore something in my lower abdomin area that was stitched/healing. Hurt like a motherfucker and that's being kind. No idea specifically what I did… all I know, glutamine and sleep, repair repair repair.
I went back through this blog and my older blog that I am in the process of importing into JDblog and I saw a pattern. When it came to fitness, it was like a broken record. Every three or so months I'd get 'motivated' and fed up with my body and attempt to change things.
Problem I didn't know then, but I do know now…
It wasn't physically possible. My body had a torn fascia that was preventing me from tightening up my frame so no matter how many sit ups I did, how many crunches I did, I still had a little pot belly.
Imagine being fit but having a pot belly. It was confusing and my Doc (at the time) couldn't figure it out.
Upside.. I figured it out and went to a plastic surgeon with my issue. I was certain this was a surgical issue, something inside was fuxor'd and I needed it fixed. A few tests later and sure enough, he knew the how, the why and the when I'd be good to go. All of this has been covered in previous blogs… no need to go into it again.
So Porn Bootcamp – wtf is Porn Bootcamp?
Well, if I can be honest and not offend anyone…
How many times are you watching porn and the guy is some tubby fuck? It sort of takes you out of the scene a little because you're sitting there thinking… how did this guy score that hot babe? WTF IS WRONG HERE UNIVERSE!
I know, that's shallow as fuck.  I'm not shallow (I don't think anyway) but again, it was always odd to me. A normal body, I understand. When I see porn and the guy looks like an Olympian with abs on top of abs, I seriously think to myself, fuck you dude, you're an asshole. (hahaha)
I'd like to think most of us aren't poster boys for Muscle & Fitness magazine. most of us are normal people, right? Well, this normal guy had been fighting a war he couldn't win with his stomach.
Fast forward to now… surgery, fascia tightened, oh snap.. looks like I lost 10 pounds overnight.
I was told by the doc.. no working out until February 2016.
Thing is, your body and the way it looks… 85% of that is created in the kitchen. If you're overweight, no amount of crunches is going to fix that, you need to fix your eating habits first.
If I am being honest, I gave up on my body a few times over the past ten years because I got frustrated. Not a good excuses, but it sucked doing all the eight things and things weren't working. All because of my fascia being ripped.. but I didn't know this at the time keep in mind. i just thought maybe my body had changed or something.
I have never been 'fat' in regards to 100+ or more pounds overweight. I've been fluffy in some areas or so I thought. Again, turns out that wasn't so much fat as it was my actual body organs slumping down in my torso because my fascia wasn't keeping them in place.
Remember a few blog posts ago when I talked about how my lung might have been punctured during surgery? Turns out, it was because my lungs were lower than they were supposed to be in my body cavity. Thanks fascia, you rock. It wasn't a level three puncture though, thankfully. It healed itself, no need for more surgery.
So yes, I have been through the shit.
I'm still here though. Fuck yes. Nothing is going to slow me down.
So I weighed myself this morning..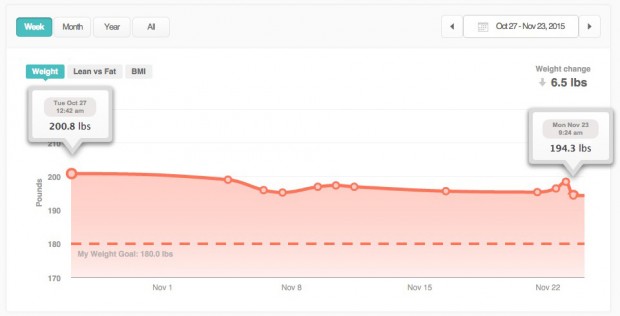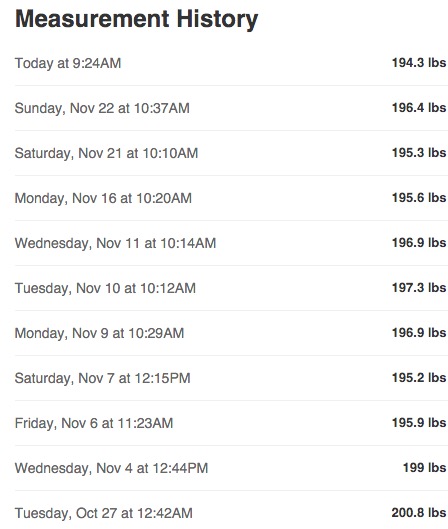 As you can see.. I'm dropping weight.
Those of you reading that would like to drop a few pounds, it's easy. As in, really, really easy.
Water. Increase your water
Take your weight in pounds, now multiple that by .75 – this will give you your 75% weight. Convert that to ounces.. so as an example.. for me, 195 pounds x .75 = 146.25 lbs. So instead of lbs, switch in ounces at the end so now, 146.25 ounces.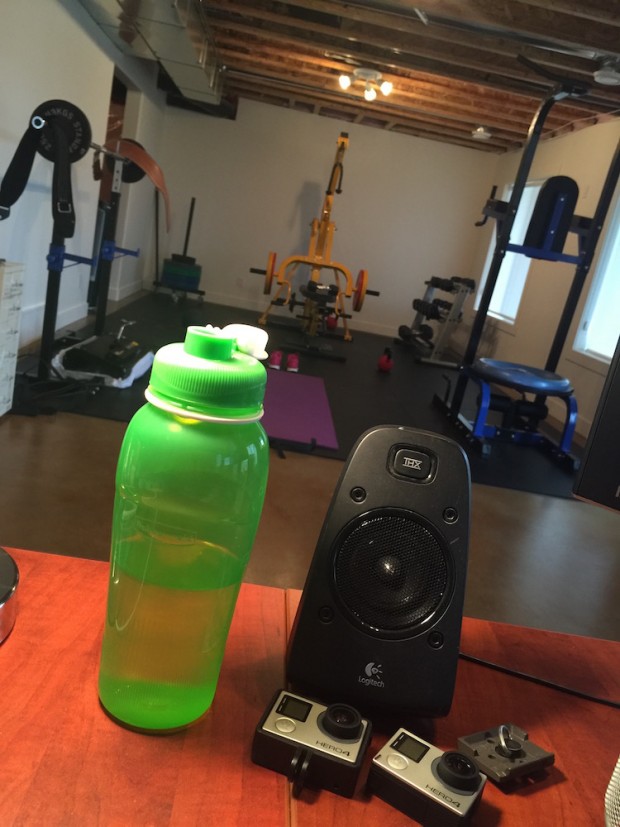 Myself, I use a 32 ounce water bottle made by rubbermaid. So I'd then take the 146.25 number, divide it by 32 and I get 4.57 so, I drink 4 1/2 of these every day and I have hit my number. If I do this for one week, putting about 60-90 minutes between each water, I'll have lost 5 pounds by the end of the week.
FIVE POUNDS.
You can see my number above, 194.3. Let's see where it is one week from today. We'll test this crazy water thing.
My body is very much in healing mode right so I'm curious how much weight my body will let me drop versus how much my body will be like, no, you need to heal first.
I am not allowed to work out before my Vegas shoot-a-thon with Bryci and some other female talent we hire but I sure as fuck can tighten up my body via proper hydration, proper protein intake.
I've cut sugar 100%. I've cut bleached white breads, pastas etc. 100%. I've cut dairy 100%.
I know that I won't be some ripped dude when I shoot in Vegas, but at least I'll have more energy to actually do my job properly. Our treadmill comes this week, and this kid is going to walk 5 miles every day using it (10,000 steps). Stamina is the goal, and as a byproduct, my body will tighten up at the same time.
Fuck. Yes.
I'll prob post before/after photos at some point. I have not taken any after photos yet, my scar is still pink and angry like it's been violated by some guy named Butch.